Powering
Insurance
Technology
For 20+ years SASid has been developing insurance technologies to make the process of distributing and administering insurance products both simple and smart. Our Mission is to help make insurance simple to understand, enroll, sell, fulfil, and administrate using smart technology to provide smart products. Our ever evolving technology is cloud based and work from home (WFH) ready.
Insurance Technology from End to End
Front End
Customer
Experience
Insurance
Marketplaces


Single Platform    Multi-Platform   Employer Group


Quote → Enroll → E-Signature → Fulfillment
Customer Service Center 24/7
Access Benefits

ID Cards
Certificates
Enrollment Forms

Customer Service
Billing Tools
Back End
Administration
And Reporting
Billing
Administration
Individual
Group
Customer Service & Fulfillment
Agent Management
Agent Onboarding
Hierarchies
Commission
Agent Marketplace
Reporting 24/7
Premium & Retention
Customer Data
Agent Data
Marketing Analysis Data/Tools
Gamification Tools
Single Product
Insurance Marketplace
An effective and proven model for selling and distributing insurance programs. Allows customers/brokers to quote, compare, enroll, and receive fulfillment documents within minutes (electronically).  Great for direct to consumer online/phone sales.
Design is typically for a one insurance company offering with 1-2 products (multiple plan options).

Dynamic design elements featured per partner – images, colors, fonts, logos, and more.

Mobile, tablet, and/or desktop functionality

Track marketing campaigns (email, website, social, more)

Broker eligibility functions and dynamic display

Eligibility rules and standards

Compliance rules and standards

Email, text, or share quote tools

Many design templates ready

Automated billing functions

Broker hierarchy capabilities

List billing for groups (employer paid or voluntary)

API functionalities
Example Partner: www.individual.eyemed.com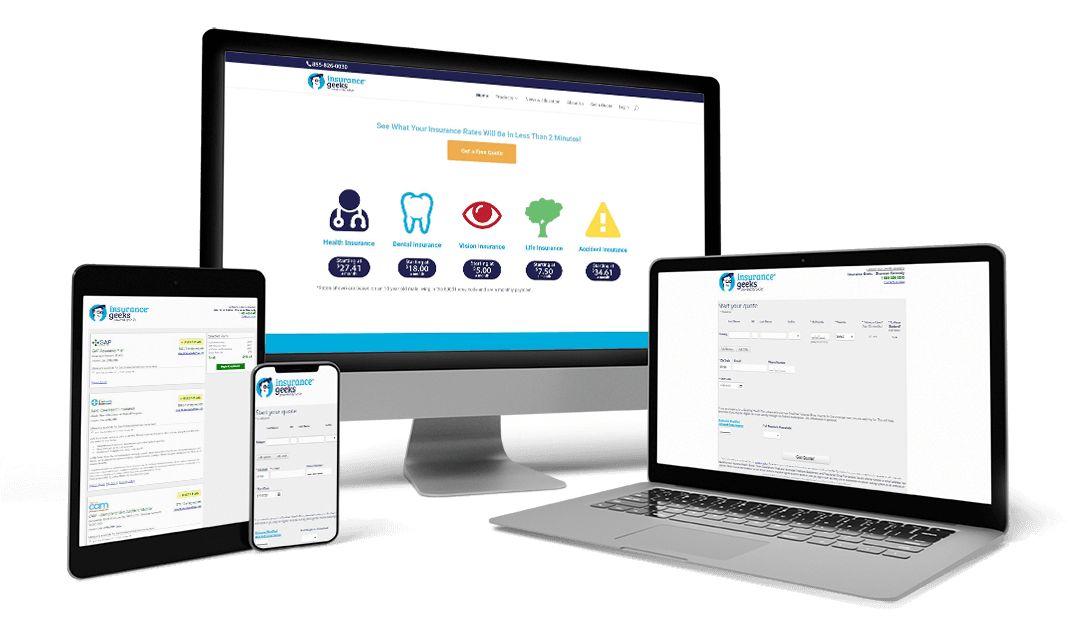 Multi-Product Insurance Marketplace
An extremely flexible insurance marketplace with the ability to shop multiple insurance companies and products.  Consumers/brokers can simply compare products and add selecting to a single shopping cart for enrollment. These SASid automations speed up the entire quote, enrollment, and fulfillment process to within minutes.
Unlimited insurance companies, products, and plans shared in a shopping cart experience

Dynamic design elements per customized tracking partner – logos, images, and more

Marketing campaign

Group enrollments (employer paid or voluntary)
Compliance rules and standards
Email, text, or share quote tools
Broker hierarchy capabilities
Great for helping clients with benefit packages
Example Partner: www.SmartandSimple.com
Studies show that employees are interested in a wider array of benefits. Our employer marketplace makes it simple to add/delete products. Group insurance marketplace can be set up for voluntary, employer paid, or defined contribution. We provide a shopping cart experience for employees to quote/enroll their insurance benefits to best fit their needs. Great tool for the new ICHRA strategy.
Paperless online quote and enrollment
Direct to consumer billing
List billing to employer
Consolidated billing
Ability to integrate census updates
Defined contribution (set a $ amount and let the EE's spend it on benefits)
Set up marketplace(s) for full-time, part-time, seasonal, and/or retirees
We make it simple for members to access and manage their benefits. Our white-labeled customer service platform lets members pay their premium, view documents (ID Cards, certificates, etc.), and view communications from insurance company partnerships.
Want to be the Most Efficient
Insurance Administrator?
We make insurance administration ridiculously fast & simple for our partnerships. SASiap is a cloud-based insurance administration software which performs smart billing, customer service, commissions, agent management, reporting and more. Also, in today's world it's work-from-home ready …
Smart automations and quick access to accounts create amazing efficiency.
Individual Billing
Credit card, EFT, Paper Bill
Consolidate products
Group Billing
Account Management
Notes & updates
Documents = Fullfillment
Historical Transactions
Realtime Auditing
Commission Administration:
A system with various payout structure options like fees, percentages, or both that offer reporting in real time. Built to handle unlimited hierarchy levels with weekly or monthly payment cycle options.
Onboard Agents in Minutes
No more paperwork or manually adding agents to systems. With our platform, you can onboard agents in minutes! Increase your agent distribution partnerships and continue to grow with this powerful tool. Get access to online contracting, dynamic agent marketplaces, and agent recruitment links.
E-Signature Agent Contracts
Agent Insurance Marketplace Links
Powerful Sales Analytics Available 24/7
Our platform allows for historical sales records along with live at a glance analytics to help power your sales team. View payment details including Processing Status, Declines, Cancellations, Terminations, and Fulfillment Status. See status for active policies and a commissions snapshot as well
Premium and Retention Data
Gamification: is the application of game-design elements and game principles in non-game contexts.
2. Distribution
 Live leaderboards (rankings)

Achievements and badges

 Kudos Reviews (ratings)
In 2020, SASiap produced Over 4 Million Transactions